Overview
A natural high on zip lines will have you traversing the glorious gorge at... Read More
2:30 hours approx.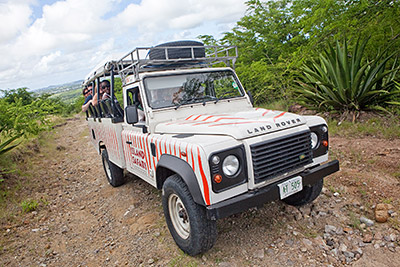 Overview
Visit the most stunning scenery on our island, get the best photo opportunities. This... Read More
6:00 hours approx.
Overview
This exhilarating adventure takes you right around Antigua's rugged 365 beach coastline in a... Read More
6:30 hours approx.
About Long Bay
Many years ago the gemstone, Jade, was discovered on Antigua. Today, there are equally precious treasures to behold. With an amazing landscape, leisurely lifestyle, and beautiful beaches, Long Bay offers an abundance of natural wonders against an exotic backdrop, including Long Bay Beach and Pineapple Beach, considered to be among the best of the 365 beaches on the island for snorkeling. Fronting the Atlantic on the far eastern coast of Antigua, Long Bay is as charming as it is adventurous with beautiful sites like Devil's Bridge, a natural limestone bridge with a blowhole that crosses the raging surf. Take in the sights, sounds, and tastes of Long Bay while on a shopping excursion, a popular pastime for visitors and an ideal place to find local treasures including hand-carved art and delicacies like Dukuna, a popular Antiguan treat comprised of grated sweet potatoes, flour, and local spices. In essence, Long Bay offers the perfect fusion of adventure and leisure!